Cities and climate change: Global report on human settlements 2011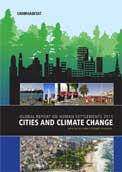 This new report reviews linkages between urbanization and climate change. It illustrates the significant contribution of urban areas to climate change & also highlights the potentially devastating effects of climate change on urban populations. Reviews policy responses, practices emerging in urban areas to mitigate and adapt to climate change, as well as their potential achievements & constraints.
Climate change is one of the most dangerous threats ever faced by humankind. Fuelled by two powerful human-Induced forces that have been unleashed by development and manipulation of the environment in the industrial age, the effects of urbanization and climate change are converging in ways which threaten to have unprecedented negative impacts on urban quality of life, and economic and social stability.
Related Content