People feel cheated over government assurances on Pedhi dam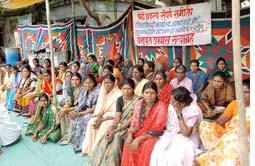 the proposed dam on the Pedhi river in Maharashtra has sparked protests in the state. People of Bhatkuli tehsil in Amravati district have threatened to intensify agitation against the proposed irrigation project after they learnt that they had been "duped' about a "non-existent committee supposedly looking into the issue'.

"After a 20-day long dharna by 40 women, the chairperson of Maharashtra Legislative Assembly called us for a meeting in Mumbai on July 31. Subsequently, we were informed through a letter that the state government is setting up a committee under the chairpersonship of Madhavrao Chitale to look into the matter. It's been over a month and no such committee has come up yet,' says Vivekanand Mathane, a farmer and member of Peedi Prakalp Sangram Samiti, an ngo formed by the Pedhi project-affected villages.

When Down To Earth contacted Chitale, former chairperson of Maharashtra State Irrigation Commission, he admitted he was not aware of any such committee. "The state government has not informed me about any committee on the Pedhi dam, hence I am not a part of it,' Chitale said.

It is alleged that the Rs 161 crore-dam will submerge about 2,532 hectares (ha) and provide irrigation benefits to 10,192 ha. Nineteen villages will be affected, of which seven will completely submerge; and 35 villages will benefit. However, both the project-affected people as well as the beneficiary families are protesting vehemently.

"The land is sodium rich and saline. From farmers' personal experiences, it is clear that irrigating such land would lead to it becoming a wasteland within two to three years. Most farmers in the area follow rainfed agriculture and manage two crops a year. There is no need for a dam or any such forced irrigation project. It will only increase the suicide rate,' says Mathane.

Mathane claims various soil tests done by the National Bureau of Soil Survey and Land Use Planning and Akola-based Dr Punjabrao Deshmukh Krishi Vidyapeeth have found that the land is a saline tract. But the state government claims to have got an independent study done by Aurangabad-based Water and Land Management Institute, an autonomous body under the state water resources department, that has refuted claims of salinity and rich sodium content. Villagers say that the report is far from the ground reality. Chitale also acknowledged that 30 per cent of proposed project area is saline.

V V Gaikwad, principal secretary, water resources department and G C Babar, chief engineer, were not available for comment.