Water sector options for India in a changing climate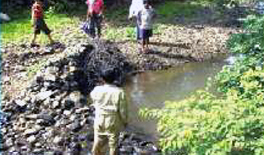 This new report by South Asia Network on Dams, Rivers and People presents an analysis of the state of water sector in India. It says that climate change offers a unique opportunity to revisit water management & provides recommendations in this context.
This report tries to capture the relevant issues for Indian Water Sector in the context of changing climate. The report briefly reviews international situation in the context of the four pillars of climate change response that are used in international climate change framework: Adaptation, Mitigation, Technology and Economic/financial issues. It takes a look at the official programmes and projects of governments in water sector. It includes some local options and success stories in water and agriculture in India in the context of changing climate.
See Also
Report: National water mission.
Feature: Water policy, 2012 silent on priorities.
Feature: A monsoon warning.
Report: Effect of climate change on water resources.
Report: There is little hope here.
Report: Climate change and India.
Report: A comprehensive climate change assessment.
Report: Water security & climate change
Feature: Mercury rises early.
Related Content