Test results of sound emitting fireworks carried out by FRDC during the period 2011- 2012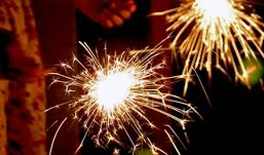 Almost all commonly available sound emitting firecrackers exceed the prescribed noise level limits set by the Supreme Court, shows this study by PESO of 846 sound emitting firecrackers from 144 manufacturers in Sivakasi.
All commonly available sound emitting firecrackers exceed permissible decibel levels, shows the tests conducted by the Petroleum and Explosives Safety Organisation (PESO). The organization had tested samples from 846 sound emitting firecrackers from 144 manufacturers in Sivakasi, Tamil Nadu. Sivakasi is the hub of fireworks manufacturing activities, catering to 90% of demand of the entire country. The permissible limit for a single cracker is 125 decibel and for a series of crackers 105 decibel. The samples crossed the stipulated limit in both categories. According to a Supreme Court order, no cracker may exceed 125 decibel and that chemical composition of all crackers must be displayed on the package. Some of the firecrackers tested by the PESO are Chinese Cracker (100 Wala, 200 Wala, 28 Giant, 1,000 Wala, 24 Deluxe), Atom Bomb (Cake Bomb, Hydro, Super King, Agni, Classic Bomb, Kongo, Bullet Bomb), Maroon (Laxmi 4, Kuruvi 4, Laxmi Gold 4), among others. The PESO comes under the Union ministry of commerce and industry, department of industrial policy and promotion. All the tests were carried out in PESO's Fireworks Research & Development Centre (FRDC) at Sivakasi during 2011 and 2012. The FRDC is designed to address some requirements of the Indian fireworks industry, like development of environment friendly fireworks, mechanization of hazardous manufacturing processes, development and standardization of products, safety of the personnel involved, study of nature of chemical composition and contrivance, quality control and quality assurance, testing of raw materials, etc.
See Also
In-court: Supreme Court order on noise pollution control.
Rules: The Noise Pollution (Regulation and Control) (Amendment) Rules, 2010.
Feature: Will Bengal allow high decibel firecrackers?
Study: Testing of fire-crackers by Maharashtra Pollution Control Board.
Report: Report on monitoring of ambient noise pollution during Diwali, 2011.
In-court: PIL filed by Awaz Foundation.
Feature: Deafening Noise.
Related Content