Economic survey of Delhi 2012-13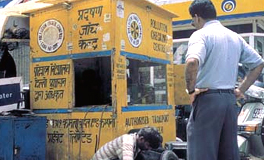 According to this 2012-2013 economic survey of Delhi released by the government air and water pollution in the national capital show an alarming increase in recent years. It also revealed some other interesting facts on transport, housing and environment.
The 2012-2013 economic survey of Delhi which was tabled in the Assembly on Tuesday threw up some interesting facts with regard to the transport, housing, environment and education sectors in the state. Despite government's efforts to strengthen public transport in the state, commercial vehicles — taxis and auto-rickshaws — have registered a sharp increase over the years. However, the resultant rise in air pollution is something the government has failed to address adequately, the survey shows. According to the economic survey, pollution, depletion and degradation of resources did not get as much attention as compared to the issues of growth and development.
See Also
Statistics: Statistical abstract of Delhi.
Book: Delhi statistical hand book 2012.
Study: Ambient air quality, respiratory symptoms & lung function of children.
Report: Multi-pollutant emissions inventory for the National Capital Region
Survey: Employment situation in Delhi.
Survey: Level and pattern of household consumer expenditure in Delhi.
Census: Houses, household amenities...
Report: Issues and challenges for 12th Five Year Plan (2012-17) of Delhi.
Related Content