PAISA District Surveys Mid-Day Meal Scheme (2012)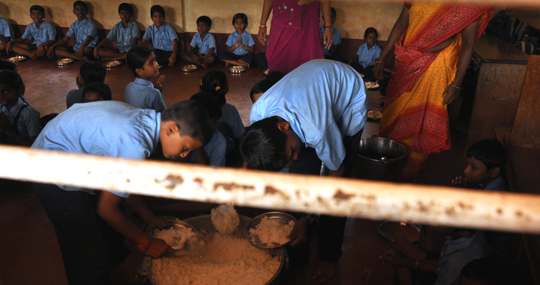 This study conducted by Accountability Initiative found several inefficiencies and widespread irregularities in implementation of the flagship Mid-Day Meal scheme in Bihar and Uttar Pradesh.
This study attempts to fill this gap in the context of the Mid Day Meal scheme (MDM). It employs a unique method to track fund flows and expenditures from their point of origin to their last point of expenditure developed by Accountability Initiative called PAISA. This study employs a combination of primary survey work and secondary analysis of government documents, to track releases and expenditures of foodgrains and fund flows from Government of India (GOI) all the way down to the schools for the financial year 2011-12. The study is based on data collected from two districts each in Uttar Pradesh (Hardoi and Jaunpur) and Bihar (Nalanda and Purnea). The focus of this tracking effort is on three main MDM grants: foodgrains, cooking costs and honorarium paid to the cook-cum-helper (CCH).
RELATED WEBSITES
See Also
Document: Meeting of the Programme Approval Board for MDMS for Bihar.
Report: Performance evaluation of Cooked Mid-Day Meal (CMDM).
Audit: Performance audit on national programme for nutritional support to primary education.
Guidelines: National Programme of Nutritional Support to Primary Education, 2006 - guidelines.
Report: Performance audit of food security schemes in Orissa and UP.
In-Court: Supreme Court order on Mid Day Meal Scheme (MDMS).
Related Content