Farmers split on merits of Dunkel proposals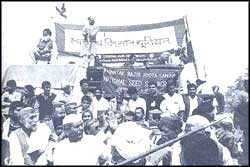 THE SEEDS sowed by Arthur Dunkel are beginning to sprout discord. Farmers are split on the merits of the General Agreement on Tariffs and Trade (GATT) proposals to patent plants and genes. After initial hostility to the Dunkel draft, some farmers now say it's good for them.

First, there was the dramatic expression of anger by farmers who ransacked the Bangalore offices of multinational seed company Cargill (Down To Earth, January 31, 1993). Then came the March 3 rally in New Delhi to demand rejection of the proposals. But, now, pro-Dunkel farmers have scheduled a show of strength in the Capital on March 31. Political parties, too, are jumping into the fray, with the Janata Dal calling a nationwide rail blockade to protest the Dunkel proposals.

The Bangalore incident had been direatening to snowball into a nationwide movement uniting farmers against the policy of integrating Indian agriculture with the global economy. Their March 3 protest, involving thousands of farmers, was the first such gathering. Mohan Fiakash of Gene Campaign, which is spearheading the opposition to Dunkel, asserted: "Never before has such a representative gathering of farmers taken place." Organisations that participated in the rally included the Karnatak Rajya Ryota Sangha, led by M S Nanjundaswamy; Bha- ratiya Kisan Union (Lakhowal group) and Bharatiya Kisan Union (Tikait group).

What has stirred the farmers most in the draft is the fear they will lose the right to retain paft of the seed for sowing the next season. Says Mahendra Singh Tikait, who heads a BKU faction, "If the Dunkel proposals come into effect, multinational companies will dictate Indian agriculture. They will price inputs as they please and farmers will be left to their mercy."

A farmer from Uttar Pradesh at the March 3 rally put it more forcefully: "I am told some people are conspiring to enslave Indian farmers, like the British once did."

But some farmers who think otherwise are mobilising to counter anti-Dunkel fears. Leaders of this group, including Sharad Joshi of the Shetkari Sanghatana and Bhupinder Singh Mann of the BKU (Mann group), have called for a rally on March 31 to show their strength. Says Joshi, "Opposition to the Dunkel proposals arises from ignorance" and Mann adds, "Farmers are being misled by false propaganda because they are notaware of the implications. "

Joshi and Mann support the Dunkel proposals mainly because they remove restrictions and allow market forces to determine farming operations. "Till recently, some state governments did not permit even inter-district movement of grain. Under GATT, we will have access to global markets. Why should we oppose it?" queries Mann.

Mann is not disturbed, either, by the :tenting of life forms. "What is new about this?" he asks. "Produce from hybrids in any case cannot be used hs seed for the next crop as it degenbrates very fast. So, even now, farm4rs have to buy hybrids every season.
Subsidy matters Joshi contends that as the Dunkel drafiipduces farm subsidies all over the world, it will in fact benefit Indian farmers and enable them to compete internationally.

Mann decried government subsidies to farmers, saying because the government regulates the price of farm produce, marginal subsidies on such inputs as fertilisers are more than offset.

Ashok Gulati, who is a director of the National Council of Applied Economic Research, Delhi, maintains Indian farmers do not benefit from subsidies because India indirectly is a net taxer of the farm sector through restrictions on exports and imports. Gulati estimates Indian farmers earn only Rs 97.67 for every Rs 100 that they could have earned in a freetrade framework.

But there are some who accuse Dunkel supporters of narrow vision. Usha Menon of Delhi's National Institute of Science, Technology and Development Studies, contends there is little evidence to indicate that "the inclination of the private sector to release new varieties will increase with the introduction of intellectual property rights". Nor, she argues, is it clear that "productivity of varieties would be higher than if no intellectual property systems exist." The main bottleneck in Indian agriculture, Menon asserts, is not the lack of varieties, but their "slow diffusion".

Dunkel opponents also maintai that the developed countrie I up such rigid health standards for farm products, it would be impossible for Indian exporters to meet them. Mann, however, laughs this off and says, "We have fertile soil and rich natural conditions. We also have developed organic fanning methods, which we can exploit because Western consumers are willing to pay high prices for healthy and environment-friendly farm produce."

S K Sinha, director of the Indian Agriculture Research Institute, notes Dunkel opponents worry that research will be crippled by new patent laws that require scientific institutions to pay royalties for using patented prodiicts and processes. Existing patent laws in India exempt scientific in'stitutions from paying royalties. "Our scientific establishments have become slothful because of the protection they have enjoyed," says Mann. "It is time for them to prove their worth or close down."

As the Dunkel debate gets more focussed, an interesting political development is taking place. Political parties so far had kept aloof from the controversy, while occasionally expressing their concern in Parliament. However, the response to both farmer rallies is a signal to the parties that Indian farmers are ready to take up the issue in right earnest.

Former agriculture minister Nitish Kumar, who is also deputy leader of the Janata Dal in the Lok Sabha, recalls, "Farmers had not gone beyond issues like irrigation, power supply, fertiliser rates and remunerative prices. Even these demands were taken up at best at the state level.

Now, for the first time, the possibility- exists of building up an all- India movement of farmers. It is this context that lends significance to the Janata Dal plan to.block railway tracks in the country on April 6, to press its demand that the Dunkel proposals must be rejected.

Farmer leaders have limited political appeal, even within their own istate. And, peasant groups have a tendency to split. It remains to be seen which farm group can transcend the o,bstacles set up by a draft propo sal that its supporters say seek:4 4o break through international barries.