Red alert in Chhattisgarh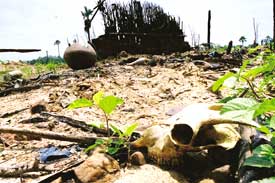 Militia minors
The state of terror
Errabore relief camp, Dantewada, September 2, 2006: Ramesh carries a .303 rifle. He's not sure of his age. "Maybe 16," he says doubtfully, and adds that he hasn't really shot anyone yet. The teenager has had only a week's combat training at the police barracks within the camp, but is officially a special police officer (spo) of the Chhattisgarh government to fight the Naxalites for a monthly salary of Rs 1,500. Legally, he can't get married or vote, but the government thinks he can handle a gun. If you thought it only happened in Liberia or Congo, welcome to India's world of child warriors. Sponsored by the state.

Though there's currently a lull in offensives from both sides because of heavy rains and flooding, there have been rumours of an attack by the Maoists tonight.
So groups of spos are making special reconnaissance trips through the camp. They don't want to be caught unawares as on the night of July 16, when about a thousand Naxalites ambushed the camp's southern flank, burning houses, shooting and hacking to pieces 42 people. "We had heard rumours that day too that there would be an attack but the thanedar wouldn't let us keep our guns. Back then we had to turn in our guns at the police station every evening, but after the attack they let us keep them," says Ramesh. "We'll do them in this time," growls another boy who refuses to give his name or be photographed, because, he explains, he doesn't want the Naxals to be able to identify him.

Later, a senior security official said they didn't really trust the boys with the weapons because they tended to be brash and careless. Obviously, he didn't communicate with Raman Singh, the state chief minister.
Purifying the land
The Errabore camp is a fallout of the Salwa Judum movement. In Gondi, the local language, the term means purification hunt, rather than peace hunt or peace initiative, as it is often translated by the English media. Some say it started in Dantewada's Kerkeli village on May 6, 2005, when villagers stood up against Naxalites who had come to take a young girl into their fold. (The rebels have a policy of recruiting one cadre from every tribal family, if necessary, by force.) Taken by surprise, the Naxalites backed off. This emboldened the villagers. Others say the movement dates to a series of meetings in which villagers, who had suffered through a drought and had no rural employment schemes or development projects to see them through (since government projects tended to sweep around Naxalite-dominated areas), began questioning the rebels' enforced boycott of trade in tendu leaf. The Maoists had called tendu leaf boycotts in the past to force prices up, but this time it didn't work. The villagers were upset.

What is clear is that the movement took form only after word of the tribals' expressions of anger reached Mahendra Karma, a Congress mla, who promptly cashed in. He held a massive rally in the area and urged the tribals to take up arms against the Naxals. Many tribals followed his urging. Armed with bows and arrows they set out in groups to hunt out the rebels in the jungles. Karma had led an earlier peoples' initiative against the Maoists, called the Jan Jagran Abhiyan. This movement began with the same name but was later re-christened Salwa Judum.

The Congress leader, a tribal himself, began going from village to village in Dantewada, holding rallies and exhorting people to join the movement. His initiative was publicly supported by chief minister Raman Singh and Salwa Judum became part of the state government's counter-insurgency strategy. Paramilitary forces were brought in to protect members.


New Delhi chipped in, offering help in the form of extra paramilitary battalions, vehicles, minesweeping equipment and technology to help locate Maoist camps. Several thousand Salwa Judum activists, many of them barely 16 years of age, were appointed spos, given some rudimentary training and arms and promised preference for permanent police jobs.
If the movement was ever a spontaneous peace mission by the tribals as the state government and Karma describe it, it very soon stopped being so. Most of the Salwa Judum leaders
Down To Earth
(
DTE
) met at the Errabore and Dornapal relief camps were either non-tribal or relatively wealthy tribals. They were schoolteachers, village heads, traders and contractors, people who could be labelled the "local elite", those who suffered most at the hands of the Maoists. This is similar to the Naxal situation. Though most Maoist cadres in Chhattisgarh are tribal people, the decision-makers, like Commander Koda from Andhra Pradesh, are usually non-tribal.
Indicted
Several detailed reports by human rights groups and independent observers have amply documented the state-sponsored human rights abuses of the Salwa Judum movement. An all-India fact-finding team, comprising members from Chhattisgarh and Jharkhand chapters of People's Union for Civil Liberties, People's Union for Democratic Rights, Delhi, Association for the Protection of Democratic Rights, West Bengal, and Indian Association of People's Lawyers, which visited Dantewada in November 2005, said it found "a pattern" in the displacements.

"When Salwa Judum meetings are called, people from neighbouring villages are asked to be present. Heavy security forces accompany the meetings. Villages that refuse to participate, face repeated attacks by the combined forces of Salwa Judum, district forces and a paramilitary Naga battalion, which is stationed in the area," the team's report states. "Once in camps, people have no choice but to support the Salwa Judum. Some of them are forced to work as informers against members of their own and neighbouring villages and participate in attacks against them, leading to permanent divisions within villages. Families are sometimes being split between Judum supporters and those who wish to remain in their villages."

Another group, which included academic Ramachandra Guha, Prabhat Khabar editor Harivansh, former bureaucrat E A S Sarma, and sociologist Nandini Sundar, visited Dantewada this May and reported that the civil administration there was "on the point of collapse" and Salwa Judum had turned into "an unaccountable, indisciplined and amorphous group" led by "criminal elements" over whom the administration had little control. "There is an atmosphere of fear and a great deal of violence in which ordinary villagers, and tribals in particular, are the main sufferers," says the group's report titled, War in the Heart of India. The report said they "found evidence of killings, the burning of homes, and attacks on women, including gang-rape" from both sides, though "only the killings by Maoists are recorded".


Pratap Agarwal: Taking on industrial interests
Unfortunately, the local media is either too compromised or too intimidated to report the truth. The administration and Salwa Judum activists take exception to any critical reports. Kamlesh Painkra, a young reporter from Bijapur, had to flee to Dantewada town with his family after writing about Judum cadres burning villagers' homes. Several other local reporters admitted candidly to
DTE
that they didn't want to risk their lives by seeming "pro-Naxal".
Industrial interests have got into the mix with their own brand of intimidation and blandishment. They want this mineral rich land. But unfortunately, as poor people inhabit this rich land, they need to use guile and guns to get their hands on it. Unimpeachable sources told
DTE
that local reporters in Dantewada had been offered a Rs 5-lakh package each by top industrial interests.
The rumour was that most of them sold out. But not everyone was cowed down. Advocate Pratap Agarwal of Jagdalpur, one of three people who had filed petitions against Tata Steel and Essar Steel's proposed steel plants and mining projects, says he enjoys a scrap with big industry. Despite evidence of intimidation, officials dismiss civil society reports of Salwa Judum atrocities as baseless. "We have gone to see to public protection during Salwa Judum marches and we haven't seen any violence," says Dantewada collector K R Pisda. Karma says: "Personal vendettas are being attributed to Salwa Judum." He adds reports are based on false information spread by "a strong network of pro-revolutionary, so-called Naxalites".
Karma's disingenuous points fly around. "When Naxals are killed in encounters, they say Judum people have killed them… You can't ignore over one lakh people who have joined Salwa Judum. Can you delude so many people to risk death?" he asks.
Related Content