Indian film on wild dogs wins award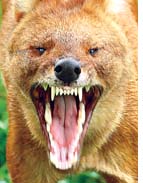 Two Indian film-makers who had braved forest brigand Veerappan to shoot a film on wild dogs were feted at a recent Japanese festival. Wild Dog Diaries, made by the Mysore-based filmmaker-photographer duo S Krupakar and Senani Hegde, has bagged the Best of the Festival Grand Award 2007 at the Japanese Wildlife Film Festival held at Toyama, Japan. The 47-minute documentary is the first film from India to win the prestigious award.

"The Indian wild dog, dhole, has always been misunderstood and persecuted. The dhole is shy, elusive and wary of humans,' Krupakar said. The film was shot over 10 years. "It took time to establish contact with the wild dogs,' Krupakar said. While shooting they were kidnapped by Veerappan.

The film is autobiographical: it's about the travails of wildlife filmmaker Krupakar, who is on the verge of abandoning his study of wild dogs in South India. He turns to a tribal person, Bomma, for help.A rare synergy follows, where native wisdom, complements modern learning.