Global hunger index 2011: the challenge of hunger - taming price spikes and excessive food price volatility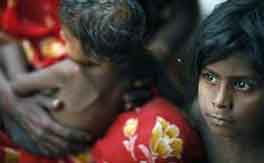 Growing demand for biofuels, extreme weather, climate change and increased financial activity through commodity future markets are the main causes of high and volatile food prices, according to this 2011 Global Hunger Index report.
This year's Global Hunger Index (GHI) shows that global hunger has declined since 1990, but not dramatically, and remains at a level characterized as "serious." Across regions and countries, GHI scores vary greatly. The highest GHI scores occur in South Asia and Sub-Saharan Africa. South Asia reduced its GHI score substantially between 1990 and 1996, but this fast progress could not be maintained. Though Sub-Saharan Africa made less progress than South Asia after 1990, it has caught up since the turn of the millennium.
See Also
Report: World hunger report 2011.
Report: Who's best prepared for a climate and hunger crisis?
Report: Food insecurity in the world.
Report: OECD-FAO agricultural outlook.
Report: Escalating food prices.
Report: National Food Security Bill.
Report: The food price crisis and urban food insecurity.
Report: Food insecurity in urban India.
Report: The state of food insecurity in rural India.